NCHA of Italy Derby & Spring Show Cremona 27.05.-30.05.2021
We have the Italian Derby and Spring show 2021 behind us.
Congratulations to Imre Katona for NCHA Derby Open Champion A TALKIN JUNE BUG, score 147,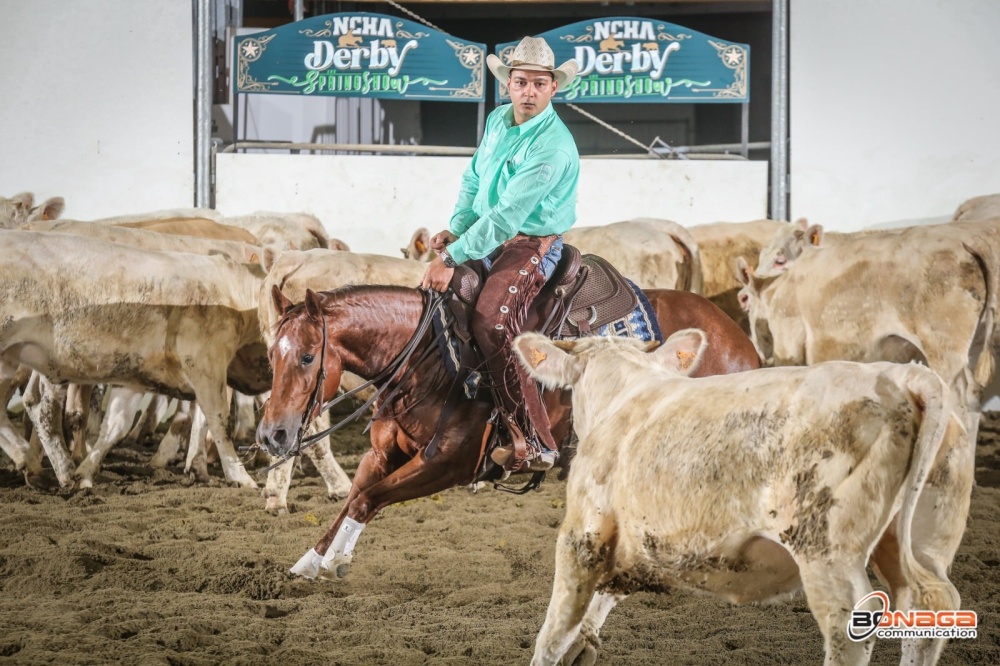 Denis Pini A TALKIN JUNE BUG owner Imre Katona
and NCHA Derby Reserve Champion title ONCE IN A BLU LOU, score 146!
Denis Pini ONCE IN A BLU LOU owner Imre Katona
Congratulations to all participants for nice placements and scores.
We bring you a list of results on how our members did, all results can be found on this link.

NCHA Spring Show Open All Ages 1°GO
4th place: SHESA TUFF TEASPOON, rider: Gianluca Munarini, owner: Dagmar Sebelova, score: 72
6st place: STOP UR HOT, rider: Denis Pini, owner: Michal Popov, score 71
14rd place: AUTUMN SHY, rider: Marek Medvecký, owner: Michal Pokorný, score 69
NCHA Spring Show Non Pro All Ages 1°GO
12th place: SHELBY FIRST, rider & owner: Milan Klimčik, score 68
NCHA Spring Show $25.000 Limit Open 1°GO
2nd place: MR SCAT HOUSE, rider & owner: Zoltan Szalontai, 1°GO score 68, 2°GO score 71, total score 139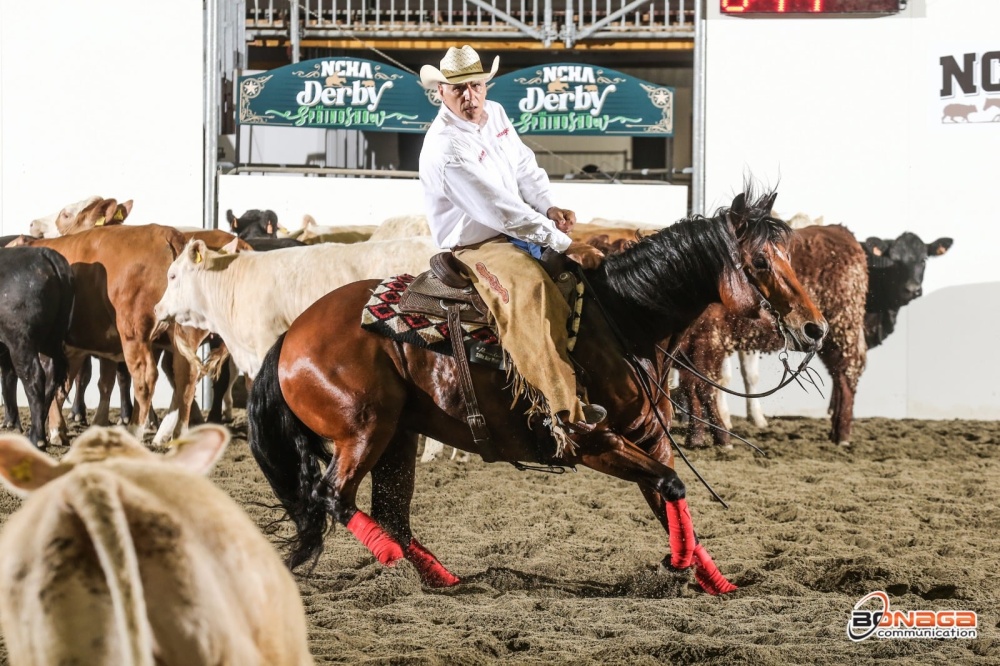 Zoltan Szalontai MR SCAT HOUSE
NCHA Open All Ages
1st place: STOP UR HOT, rider: Denis Pini, owner: Michal Popov, score 75
Denis Pini STOP UR HOT owner Michal Popov
2nd place: ZEN AND TONIC, rider: Denis Pini, owner: Imre Katona, score 74,5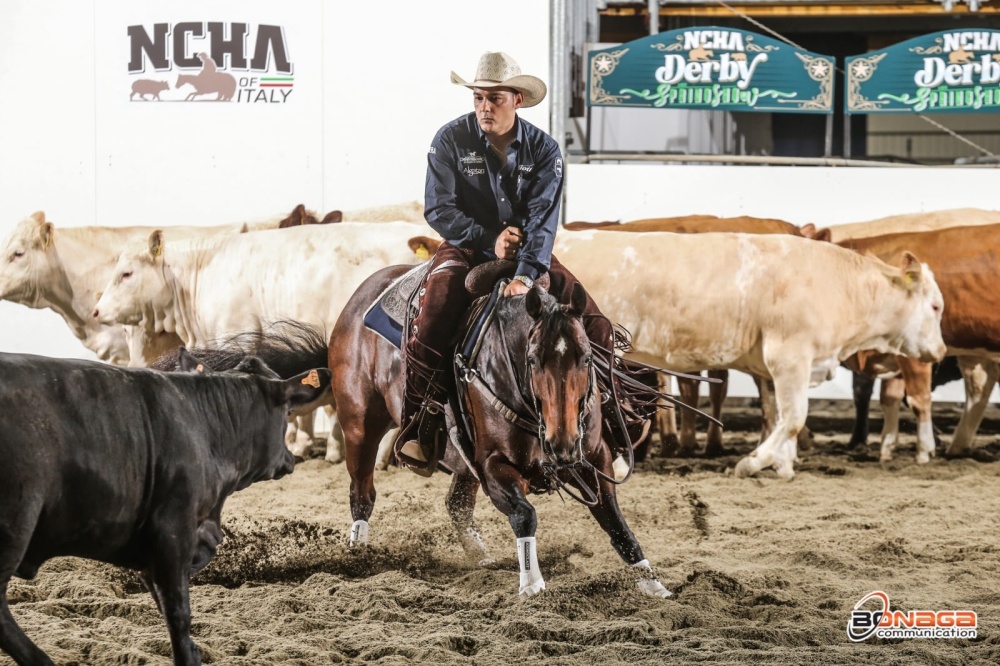 Denis Pini ZEN AND TONIC owner Imre Katona
NCHA Non Pro All Ages
7th place: SHELBY FIRST, rider & owner: Milan Klimčik, score 60
NCHA of Italy Jackpot Open All Ages
4th place: LIL DRIVE CAT, rider: Gianluca Munarini, owner: Dagmar Sebelova, score 60
4th place: JUST GETTIN STARTED, rider: Gianluca Munarini, owner: Dagmar Sebelova, score 60
NCHA of Italy $25.000 Limit Open
2nd place: MR SCAT HOUSE, rider & owner: Zoltan Szalontai, score 70
Zoltan Szalontai MR SCAT HOUSE
3rd place: AUTUMN SHY, rider: Marek Medvecký, owner: Michal Pokorný, score 69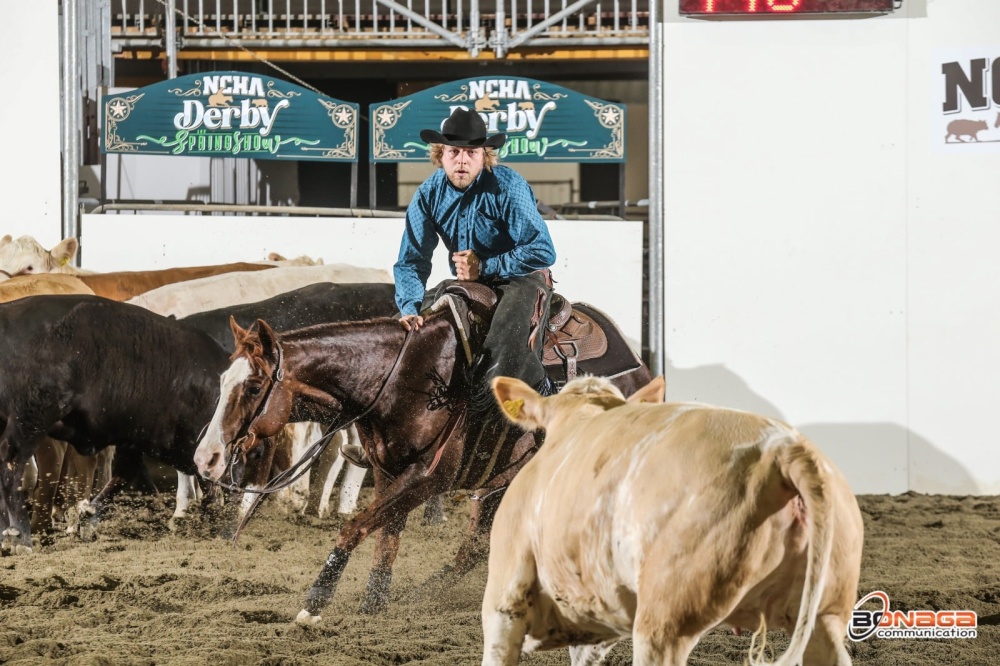 Marek Medvecky AUTUMN SHY owner Michal Pokorny
6th place: ZEN AND TONIC, rider & owner: Imre Katona, score 66
NCHA $15.000 Amateur 1st show
2nd place: ZEN AND TONIC, rider & owner: Imre Katona, score 71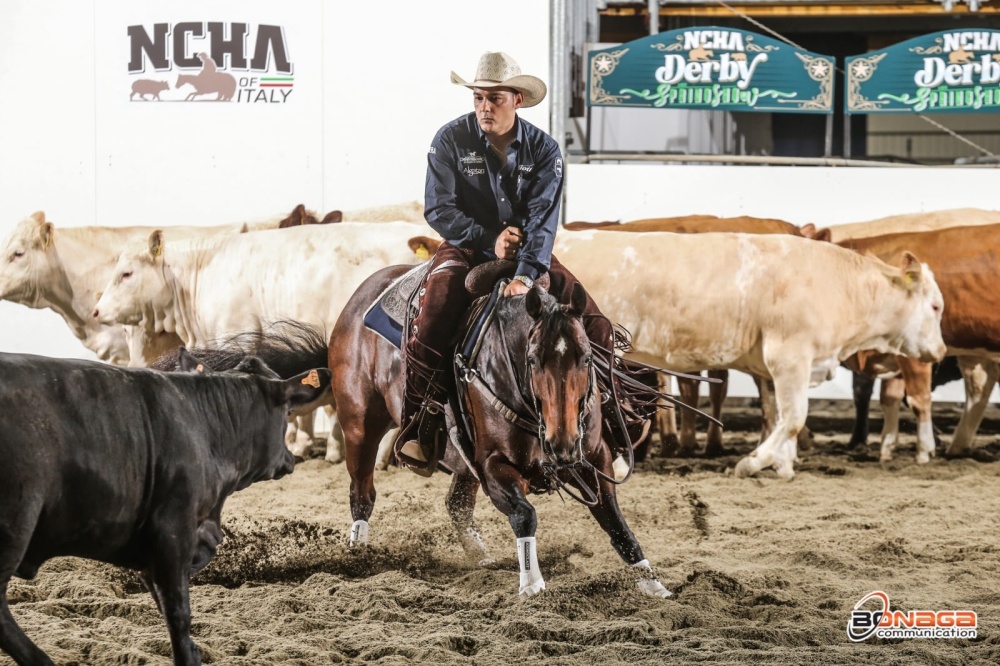 Denis Pini ZEN AND TONIC owner Imre Katona
4th place: BLISTERBEETLE, rider & owner: Jana Kucerova, score 69
4th place: MR SCAT HOUSE, rider & owner: Zoltan Szalontai, score 69
7th place: LIL DRIVE CAT, rider & owner: Dagmar Sebelova, score 65
8thplace: DRESD N CROME, rider & owner: Roman Plavka, score 60
NCHA $15.000 Amateur 2nd show
1st place: BLISTERBEETLE, rider & owner: Jana Kucerova, score 75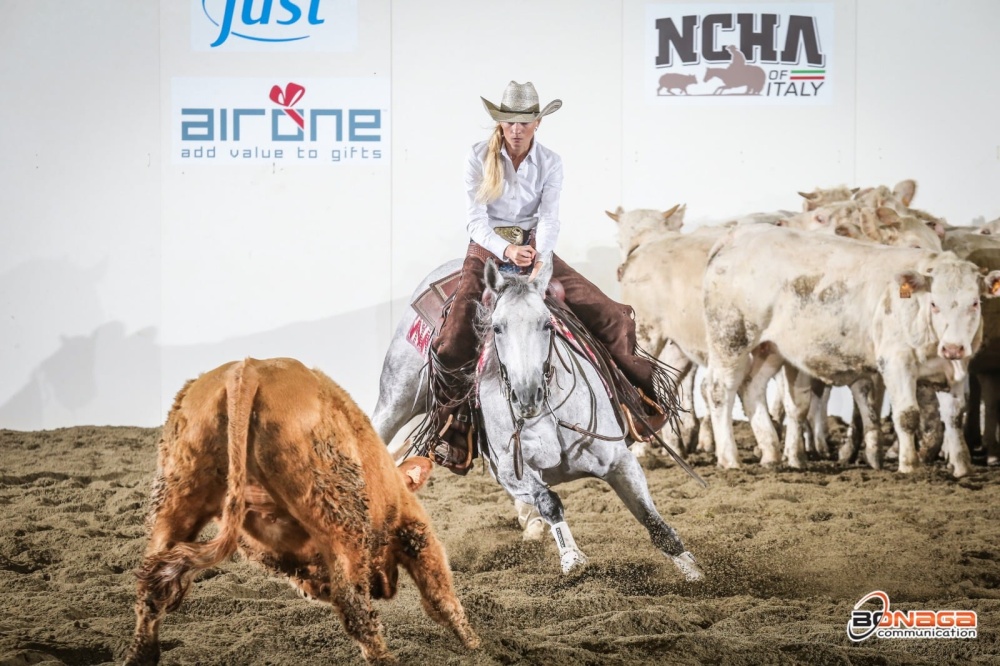 Jana Kucerova BLISTERBEETLE
8th place: DRESD N CROME, rider & owner: Roman Plavka, score 68
10th place: SHELBY FIRST, rider & owner: Milan Klimčik, score 66
11th place: LIL DRIVE CAT, rider & owner: Dagmar Sebelova, score 65
12th place: ZEN AND TONIC, rider & owner: Imre Katona, score 60
NCHA $5.000 Novice 1st show
5th place: DRESD N CROME, rider: Anton Kondela, owner: Roman Plavka, score 70
NCHA $50.000 Amateur 1st show
6th place: DRESD N CROME, rider & owner: Roman Plavka, score 63
NCHA $1.000 Amateur 2nd show
3rd place: LIL DRIVE CAT, rider & owner: Dagmar Sebelova, score 72
Dagmar Sebelova LIL DRIVE CAT
8th place: DMAC SPOONBILL, rider: Rostislav Sebela, owner: Dagmar Sebelova, score 62
NCHA $2.000 Limit Riders 1st show
6th place: LIL DRIVE CAT, rider & owner: Dagmar Sebelova, score 64
NCHA $2.000 Limit Riders 2nd show
2nd place: LIL DRIVE CAT, rider & owner: Dagmar Sebelova, score 72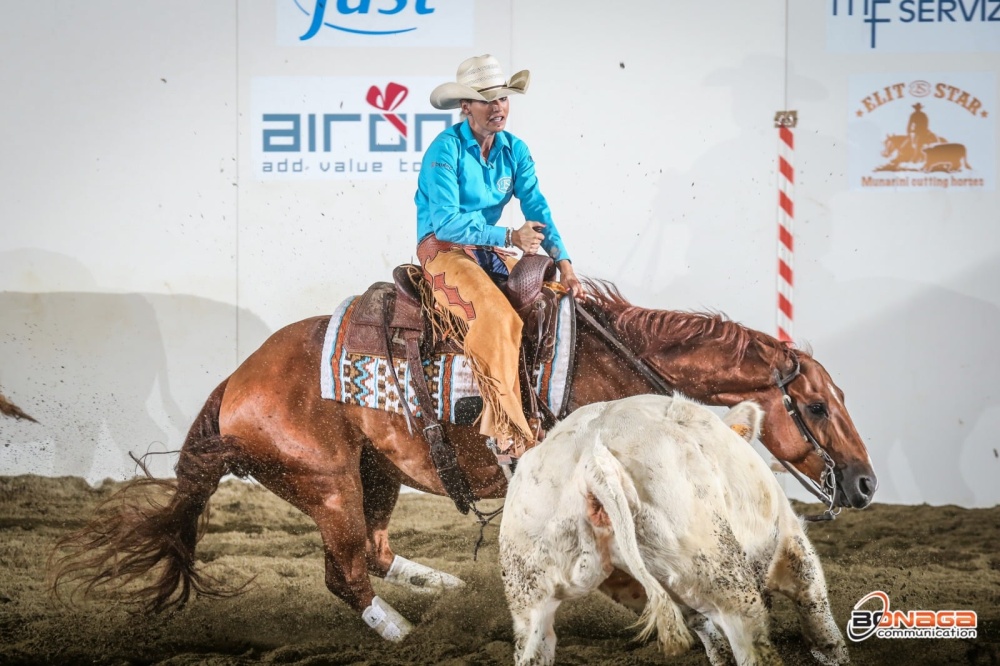 Dagmar Sebelova LIL DRIVE CAT
NCHA Youth 1st show
3rd place: SHESA TUFF TEASPOON, rider: Sofia Channah Sebelova, owner: Dagmar Sebelova, score 60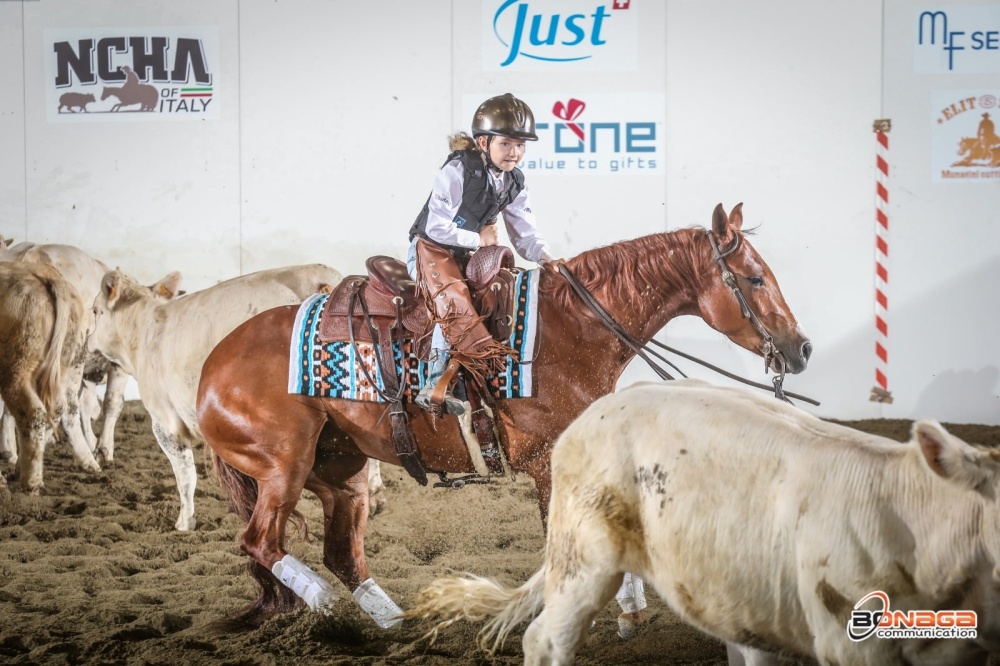 Sofia Channah Sebelova SHESA TUFF TEASPOON
3rd place: JUST GETTIN STARTED, rider: Sarah Angela Sebelova, owner: Dagmar Sebelova, score 60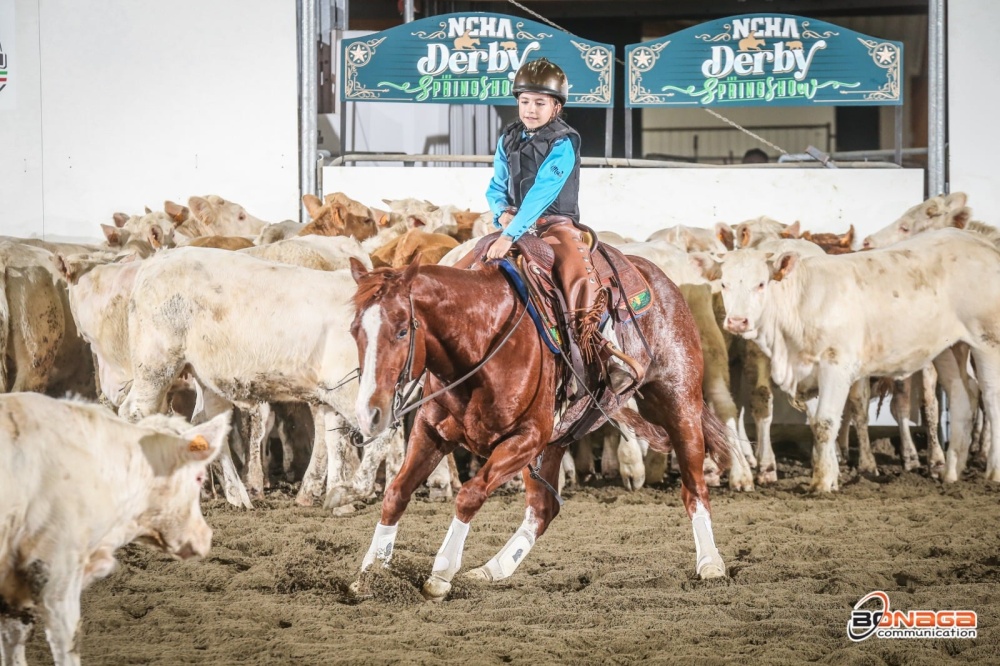 Sarah Angela Sebelova JUST GETTIN STARTED
NCHA Youth 2nd show
3rd place: SHESA TUFF TEASPOON, rider: Sofia Channah Sebelova, owner: Dagmar Sebelova, Score 65
Sofia Channah Sebelova SHESA TUFF TEASPOON
4th place: JUST GETTIN STARTED, rider: Sarah Angela Sebelova, owner: Dagmar Sebelova, score 60